How to use the Stoic mindset for happiness and self-care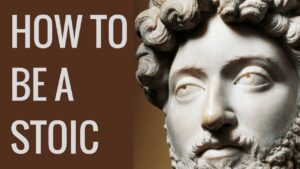 Guys, I was pleasantly surprised after reading the article below. I know for sure that many young (and mid-age) guys are struggling with choosing the right direction in their life because their mindset was not in the right place. Some of you know your problems but for some reason don't want to face it and look in the mirror and saying: "I am ready for change! "
Remember every day that your happiness (or unhappiness) is in your hands. You are the builder of it!
I hope the following information will assist you in moving your life in the right direction and in managing your brain by not letting your subconscious manage you.
Stoic philosophy might have its origins in ancient times, but you can apply its concepts for your own well-being today.
Learning how to cope with difficult situations is a valuable skill to develop and one that gives way to peace, happiness, and better overall well-being, especially in the face of stress and anxiety. Stoicism practices can help you find daily calm, focus, and reflection and can even help you manage the most challenging of life events. If you're looking for a new self-care tool, then applying wisdom from Stoicism philosophy may be exactly what you need.
What Is Stoicism Philosophy?
Stoicism is an ancient philosophy that have its roots set in the Hellenistic period of Greek history. Stoic wisdom from famous Greek philosophers—Marcus Aurelius, Epictetus, and Seneca—has been translated and offered as a tool for living in the modern day.
Stoicism and Mental Health
Big Think is just one of many sources that has linked cognitive behavior therapy (CBT) to Stoicism. This article suggests CBT has a lot to thank Stoic philosophy for, including its potential to help us adjust our perceptions of difficult events in life.
Some core principles of Stoic philosophy include:
You cannot control external events. The only control you have is over your thoughts, opinions, decisions, and duties. You can let go of all else. (And that in itself is a relief!)
You choose the meaning in your own life. You do this by labeling objective events as "good" or "bad". For example, imagine you were burgled. You can decide whether this is the worst thing that has ever happened to you, or you can choose to see it simply as a neutral event, and instead put your energy into action to overcome what happened.
You have the inner resources you need to thrive. You don't need to buy into any promise or dream to improve your life; everything you need is already inside of you.
These are just a few of the ideas held within Stoic philosophy that can help you reframe your thoughts to better cope with life's events. But, as with all philosophy, there is a depth that needs to be learned and practiced over time. If you want to learn how to improve your well-being using Stoicism, use these tips to get started with Stoic philosophy.
Read The Daily Stoic
If you're not sure where to start with Stoic philosophy, then reading The Daily Stoic is a great way to get to grips with the concept. Arguably one of the best books on Stoic philosophy, this publication (written by Ryan Holiday and Stephen Hanselman) doesn't just define Stoicism like a textbook. Instead, it encourages its readers to learn Stoicism through reading and contemplating provided daily meditations.
Available as both an e-book and an audiobook, The Daily Stoic offers 366 meditations on "wisdom, perseverance, and the art of living" (i.e. a philosophy lesson for every day). The Stoics themselves were keen on daily rituals and journaling, and this book aims to give its reader the same hands-on approach to Stoic philosophy.
To get the most out of this book, we recommend pairing it with a means of jotting down your thoughts. You can do this either by adding your ideas to each chapter (you can easily highlight sections and add notes on the Kindle app), or keeping a diary as you read the book or listen to the audiobook each day.
You can find out more about The Daily Stoic and its accompanying media, including The Daily Stoic Podcast, on the website.
Find Free Daily Stoic Wisdom on Twitter
If you're not ready to invest in a Stoic philosophy book just yet, then head over to Twitter for free excerpts of The Daily Stoic. Both the official book account @DailyStoic and the author @RyanHoliday are active in sharing daily Stoic quotes and ideas based on the bestselling book.
Following either or both of these accounts will provide daily snippets of Stoic wisdom for you, which can help encourage you to reframe your thoughts as you go about your day.
To make the most of the wisdom shared by these accounts, you can set up Twitter notifications for each account. That way you'll have Stoic philosophy delivered directly to your device to pep up your day.
Reframe Your Thoughts Using the Stoic App
3 Images
A great way to tap into Stoicism practices and track your mental health is to use the Stoic app. Free to download and with a seven-day trial option for additional features, the Stoic app encourages you to track your emotions and reactions to your daily routine and shares Stoic philosophy quotes as you go.
The Stoic app encourages users to take stoicism beliefs a step further by taking action, whether that's journaling, breathing practices, meditation, or visualization of scenarios you're currently fearing.
Download: Stoic App for Android | iOS (Free, in-app purchases available)
Let The Happiness Blog Explain It All
If Stoic philosophy feels a bit convoluted or hard to grasp, then The Happiness Blog is here to help. With a dedicated section to the philosophy of Stoicism, those looking to learn more will gain a lot from the feature on Stoicism for Beginners. This page gives a quick tour of Stoicism philosophy, highlighting seven important lessons to learn. You'll also find useful videos embedded on the page that help further explain Stoicism.
Elsewhere on The Happiness Blog, you'll find advice including how to manage your temper using Stoicism, how to find inner peace, and other aspects of well-being that can be improved by adopting Stoic wisdom.
Practice Stoic Philosophy With a Diary App
A significant part of Stoicism practices involves contemplation and reflection and there's no better way to get your thoughts out about philosophy than journaling.
These days, there are many more accessible ways of journaling than putting pen to paper. If you like typing on your desktop, you can use a journaling app for Windows. Or, if you like to read and write on the move, you can check out these mobile journaling apps.
Try pairing an excerpt from The Daily Stoic book with a daily journal entry or reflecting on Stoic philosophy quotes you find on Twitter (see above) in your journal app.
Stoic Philosophy Can Help Boost Your Well-Being on a Daily Basis
Once you've grasped the basics of Stoic philosophy, you can apply the principles to your daily life and experiences. With Stoicism, you can consider stressful or difficult situations differently, reflect on the event using a journal app, and reframe your thoughts to lead a happier and more peaceful life.
Your Admin