About Port Wine and Vintage Port

In accordance to Wikipedia, Port wine (also known as vinho do Porto, or simply port is a Portuguese fortified wine produced in the Douro Valley of northern Portugal. It is typically a sweet red wine, often served with dessert, although it also comes in dry, semi-dry, and white varieties.
Other port-style fortified wines are produced outside Portugal, in Argentina, Australia, Canada, France, India, South Africa, Spain, and the United States, but under the European Union Protected Designation of Origin guidelines, only wines from Portugal are allowed to be labeled "port".
Vintage Port is the most expensive and prestigious member of the Port family (and it is my favorite wine that pairs well with a quality cigar). Though accounting for just a fraction of total Port production, Vintage Port is the Douro's flagship style, attracting attention and speculation the world over.
A Vintage is 'declared' in only the best years, when both the quality and quantity of the available fruit align. It may take up to two years after harvest for a vintage declaration to be made, and even when one Port shipper judges the conditions sufficient for Vintage Port, other shippers may not necessarily agree. This scenario is highly unusual, though, and has only occurred a handful of times in history.
Vintage Port is made from the best grapes in the Douro, typically from the Cima Corgo sub-region. The grapes are left to achieve full ripeness before they are picked, vinified, and then fortified with a high-proof grape spirit. Vintage Port spends a short time aging in barrel – only two to three years – and is bottled unfiltered when it is still very dense and full of sediment.
This is why Vintage Port's minimum bottle-aging period is considered to be 15 years, and it is often said that no other wine requires as much time in the bottle to balance itself. The finest examples are capable of vitality well after 50 years.
Recent critical successes have helped bring about a renewal of interest in the style, and Vintage Port is often considered as an alternative to Bordeaux or Burgundy as an addition to the cellar. Decanting Vintage Port before serving is necessary, as the sediment in the bottle can often become crusty over time.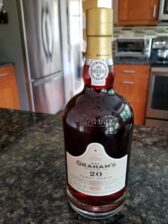 I could tell you a lot about great ports (and I have quite a few of them in my wine cellar). I love this type of wine because, hey, it's sweet (sometimes it is overpowering your palate with a sweetness if you buy the cheap port), it's so flavorful in smell and taste, and the vintage port is an art that was mastered by the greatest wine families for generations!
One of my far relatives has hooked up me with Port (with roasted nuts), and since then I am the biggest fan of this type of wine.
Most people get used to the fact that a port is a dessert wine, however, my personal opinion is that it's a big mistake. There is a simple explanation:
When you had dinner and ate various food, your palate is overloaded with the after-food taste. So, sipping port after having food will destroy many nuances of the wine.
When you taste the port before any food, your palate is clean, and you can catch the beautiful flavor of the port wine fully.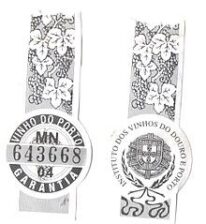 Official guarantee label from a bottle of port.
If I want a drink after dinner, I'd rather take 2-3 fingers of the bourbon (a cigar is optional) but never port wine, especially vintage. I'd consider it a travesty to drink port after any food (your opinion may vary).
If you understand the beauty of a good port, you MUST travel to Portugal which is one of my favorite cities in Europe.
I had a chance to fly there in 2016.  Lisbon and Port are two cities that you should not miss. First of all, you are going to enjoy every moment. There are so many great attractions to see and many nice places to attend. I have brought plenty of pictures. Every day was a real enjoyment: seeing places and meeting very friendly people.
DON'T BE A SHMACK LIKE ME!
I had to mention that while being in Port, I took an Uber cab to drive to one of the vineries that happened to be Cockburn. When I arrived there and wanted to take the picture of the entrance, I got in complete shock: I could not find my phone! OMG! Losing my phone was equal to losing a laptop with plenty of personal information, a password manager with hundreds of passwords for different websites and banks, not to mention hundreds of pictures from Lisbon. Man, I don't remember myself in such a shock for a long time.
So, I went inside a vinery and shared the news with the salesman. The question was how to catch the same cab and call the driver.
You can imagine that if the driver has picked up new passengers, the phone could get in their hands momentarily… The salesman began looking for an Uber website in an attempt to find their phone number. Not a chance! I asked him to switch to English on his computer and began doing the same but with the same result. Finally, I thought I can log in to the Uber website and send the message to customer support. Luckily, I have recalled the password and was able to log in.
And here it was: the phone number! So, I have asked the salesman to call them in Portuguese and explain the problem. And then the good news came from customer support: the Uber driver has located the phone and asked for the address to deliver(!) it to my hotel for free.
Long story short, I picked up my dear phone at the front desk of the hotel.
So, why did I tell you this story? It proves that the Portuguese people are very friendly.
PORT WINE DIVERSITIES
I have visited Port city and drove around (mostly along the river) to visit several wineries. https://www.portugalvineyards.com/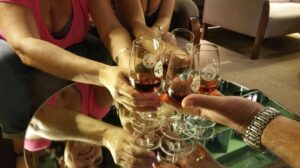 You have the chance not only to get inside and see many huge barrels of wine but also to taste it. I usually drink a red port but I was able to buy 3 bottles of amazing 10 years old white Port. Even my wife who is not fun of a Port has admitted that the white one was outstanding. I even found the bottle of a port that was harvested in my birth year.
Depending on the number of years held in the barrels, the port can have different tastes, different colors, and be named differently, not to mention the price difference. Also, there are several styles of Port, including red, white, rosé, and an aged style called Tawny Port. While much of the Port we see in the supermarket is of average quality, many fine Port wines are highly treasured and cost several hundred dollars.
Port is a sweet wine with flavors of raspberry, blackberry, caramel, cinnamon, and chocolate sauce. There are many different official categories of Port, but most fall under these categories:
Tawny Port: This slightly sweet, complex, and brownish-red wine is barrel-aged in wooden casks. Aged tawnies are rich and soft wines aged for 10, 20, 30, or 40 years.
Ruby Port: A younger Port, this variety boasts a ruby color and fruity flavor. This variety is typically bottle-aged for a few years and then cellared before it's opened.
White Port: This Port-style is made with white grapes and fermented in wood tanks. It offers bright flavors (think apple and stone fruit) with a nutty finish.
Rosé Port: A delightfully aromatic Port, this variety has bright berry and caramel notes plus the signature pink shade made famous by rosé wine.
Colheita Port: This single-vintage Tawny Port is aged in oak barrels for at least seven years. It's intended to be enjoyed soon after bottling.
Vintage Port: This type of Port is from an exceptional wine year and is aged for no more than two years in a barrel before bottling. You can age these for 10-50 years in the bottle. The color of these Port wines is much lighter compared with LBV and Ruby which are dark-dark red. When you sip the vintage Port you are in a haven!
Single-Quinta Port (SQVP): This category includes port wines made from a single vineyard (also called a Quinta) and a single vintage of the year the grapes were picked.
Late-Bottled Vintage Port (LBV): This single-vintage Port ages for 4 to 6 years in a barrel before bottling. Since it ages for twice as long as vintage Port, you can drink it fairly young.
Crusted Port: A newer version of Port, this variety is unfiltered when bottled, causing sediment (also known as crust) to form. This wine aims to mimic vintage Port at a lower price point.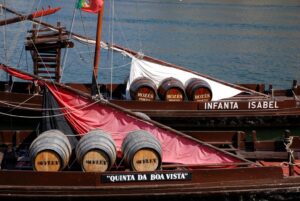 As with all winemaking, Port production begins once the grapes are harvested. The grapes are pressed to extract the juice and begin the fermentation process. If the winemaker fortifies the wine before fermentation is finished, the result is more residual sugar that creates a sweet wine. By contrast, if the winemaker adds the spirits after the fermentation process is complete, the result is a dry fortified wine with less sugar.
Often, young Port wines are aged in large oak barrels for about 18 months. Some Port producers bypass the oak casks and let the wine age in the bottle. Depending on different winemaking factors, you can end up with a sweet and complex Port wine or a drier and brighter variety.
Serving Port Wine
Port should be served just below room temperature, around 60 °F (16 °C). A Port wine glass is smaller than a regular wine glass and the serving size is approximately 3 oz.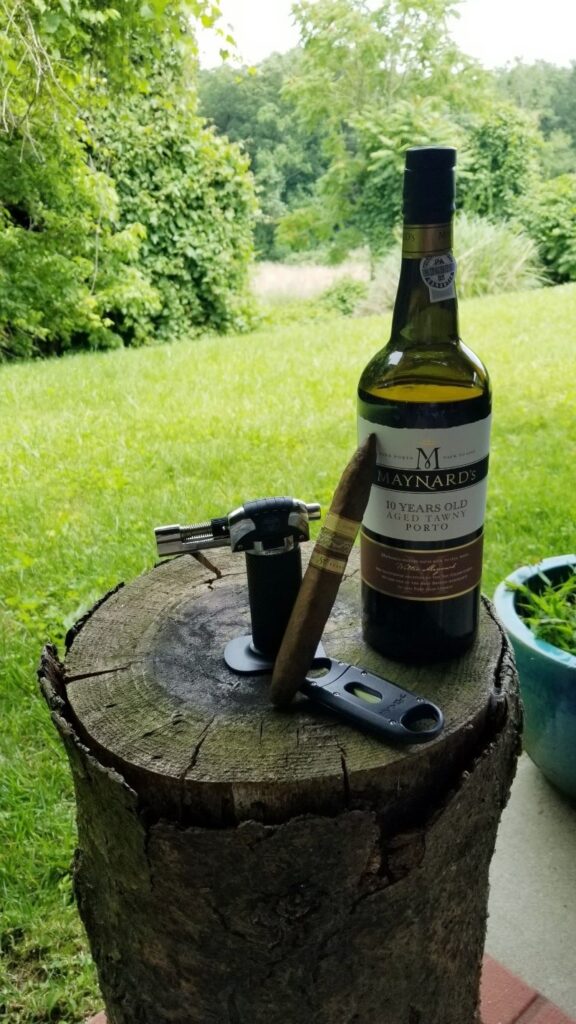 Pairing with Food
Port wine pairs wonderfully with richly flavored cheeses (including blue cheese and washed-rind cheeses), chocolate and caramel desserts, salted and smoked nuts, and even sweet-smoky meats (barbecue anyone?).
One of the most important qualities of true Port is the unique blend of Portuguese indigenous grapes. Port grapes include Touriga Franca, Touriga Nacional, Tinta Roriz (aka Tempranillo), Tinta Barroca and Tinta Cão, and there are said to be at least 52 varieties! Each grape adds a unique flavor to the blend. For example, Touriga Nacional adds blueberry and vanilla notes, and Touriga Franca adds raspberry and cinnamon notes.
It's Time to Pour a Glass of Port!
Whether it's to celebrate a special occasion or to sip something special during your weekend, a glass of Port wine is rarely a bad idea. While this popular Portuguese import has become the go-to dessert wine for people around the world, there's much more to Port than meets the eye.
For one, Port is not just red, sweet wine — it comes in 52 varieties, including dry white and rosé. Also, unlike other wines, Port is fortified with spirits for an extra boost of alcohol. (No wonder it's best in small glasses.)
And while Port is unparalleled for dessert pairings, you can also enjoy it before a meal or at any other time, especially pairing with a good quality cigar as I do. After all, the only real rules for wine drinking are to find a bottle you love and take a moment for liquid leisure. Drink in moderation: it's ~18°.