DIY: Protect your private data from Microsoft
Guys, you surely know about Google's intrusion into our privacy. If not, read my previous article.
Today, I want to show you several simple steps to decrease your exposure to a commonly accepted by many internet companies practice to steal your private information and use it to generate money.
If you think it's only Google and Amazon, you are wrong. I can add your ISP (Internet service provider), Verizon, AT&T, T-Mobile, Sprint, and many others, and, of course, Microsoft.
The good news is that you can significantly decrease the amount of collected information about your privacy if you really care.
I know many people who ignore this issue and readily exchange some convenience offered by privacy grabbers for details about your private life (how and where you shop; where you drive daily, the list of your contacts, your browsing habits, the websites you watch, your political views, how often you buy certain items or attend certain clubs, etc.).
I have already explained that such ignorance can bring undesired results. It is not hard to limit your exposure to data grabbers. Let's see how you can do it with Microsoft. Type in your browser:
https://privacy.microsoft.com/
You will reach Microsoft's privacy page. Microsoft's CEO Nadella is proudly promising that your data is controlled by you (see the snapshot below). He just forgot to mention that your data is being captured by Microsoft by default unless you limit it.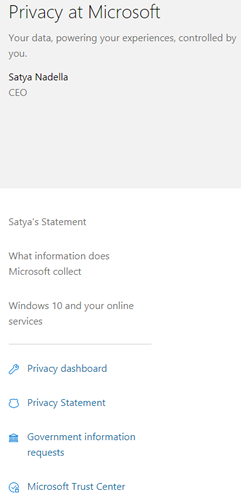 Click on the Privacy Dashboard link, then login into your Microsoft account. From the Privacy Dashboard page, you will be able to control what is being given to Microsoft "to consume". There are 10+ sections where you can limit what is being captured by Microsoft.
Manage browse data
Sign in to view and clear browse data that we collect when you use Cortana and Microsoft Edge.
View and delete information about your Bing search activity.
See and clear location info that we collect when you use Microsoft products and services.
Manage what Cortana knows about you to provide personalized recommendations.
Other privacy settings
Change any of your privacy settings on your Windows 10 device by going to Start > Settings > Privacy. Privacy settings in Windows 10
Manage apps and services that are allowed to access your data. Apps and services that can access your data
Adjust your Xbox privacy settings on either your console or by signing in to Xbox.com Xbox privacy and online safety
View your privacy settings in any Office product by going to File > Options > Trust Center. Settings in Trust Center
Edit who can see your profile in Skype and other privacy settings by signing in to your account at Skype.com. Skype settings
Choose whether you would like to see interest-based advertising. Ad settings
Manage promotional communications associated with your Microsoft account by signing into the Promotional Communications Manager. If you don't have a Microsoft account, you can request a link to manage promotional communications by email.
Learn how to view and manage your data in some of our other products and services. Privacy info for Microsoft products
If you're not able to find what you're looking for, or you have a privacy question or concern—contact our privacy team.
I left the only Skype settings "on" since I use it to communicate with my family and friends when I take the laptop with me on the trip. Everything else I left disabled including Cortana – the official Microsoft's spy - and location, marketing, telemetry, and Xbox.
If you did not do the same for your Windows operating system, there is a link pointing to Windows privacy settings.
As you see, it's quite simple; and now you have limited your private information exposure significantly.
If you have anything to add to this post, don't hesitate.
If you like what you read and want to be notified about future articles, please subscribe for FREE (at the bottom of a page)