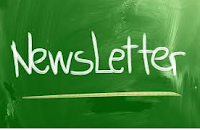 MY CASE AGAINST INVESTMENT NEWSLETTERS
You have been warned!
I want to warn you that if you want to get the full picture of the investment newsletters' scam, get ready to read: this article is quite long.
I was going to share my opinion about the investment newsletters for a long time, and every next one I was reading just added more to my frustrations.
I am referring to those daily (and, in rare cases, weekly) emails that hit your email box with investments recommendations.
Yes, I know your argument in advance: Don't like it? Don't subscribe.
The irony of it is that I don't subscribe but... Let's get everything in order, first.
There is usually one person behind every investment newsletter. The person who has investment experience either as a former trader for the financial company or, perhaps, one of those analysts who have retired or found the newsletters business more lucrative.
There is a commonly shared technique on how to get paid subscribers.
The Art of Marketing Technique
Among other skills, I have a background in marketing techniques, and I was teaching the students to promote websites since 1999, when the SEO (Search Engine Optimization) and online marketing were just making first steps in the new world of the search engines like Google, Yahoo, and later, Bing. So, I will give you some insights on how the marketing is piloted by every newsletter (and not only investment-related).
Imagine that you are the person who wants to start a new business: subscription to investment advisory. Let's call you Bob Smart.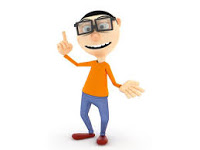 The marketing technique among the newsletter authors is similar in many features.
For the start, Bob has to describe himself as an extremely successful trader by reflecting on his past trades with the gains in triple digits. It is like your resume where you do not reveal your failures (unsuccessful trades) but show only positive outcomes after your trades.
Bob skips even successful trades in single or low double digits % points but, to get the desired effect, shows only triple or even 4-digits % gains. Only the guru of investing knows how to get there and increase your wealth with his advice. Otherwise, why would you spend money on the average analysts, right?
The next step is to write the usually lengthy promotion of Bob's skills and why without him you are out of luck or, perhaps, you need him badly if you want to make those triple-digit gains consistently.
When Bob has completed the first two steps, the next one is to begin marketing his service.
The best-known method is to offer a freebie (like candy) and then make sure you have subscribed to his advisory. No, Bob does not expect you to become the paid subscriber right away -- it is expected in the nearest future.
So, how it's getting done practically?
Bob also creates a 30-40 min video (oh, man, how I despise them!) where he shows you how great he is with his trade recommendations. He adds the customers' testimonials (even if he has no customers, yet), and offers you to subscribe to his newsletter adding a few more freebies if you subscribe (like extra reports).
I mean customer testimonials like this one from the Oxford club (pic on the right).
Examples of freebies: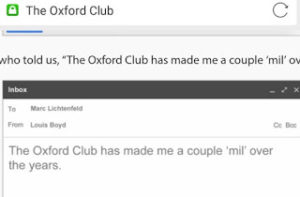 Free eBook: 5 Basic Plays of Trading Options
         How to Build a Million Dollars Portfolio from Scratch
          A Realistic Way to Turn $5,000 into $1 Million (In Just 5 Years)
          How to Identify Stocks That Can Rise Tenfold
         10 hacks for Options
       Free trading kit 4 options
          The Most Powerful Trading Technique Ever Discovered (how do you like this one?)
and, finally, the best one:
      Give Me 10 Minutes And I'll Make You a Millionaire!
You'll need no special training, no special skills, and you can start with just a couple hundred bucks. Download my book for free. (D.R. Barton)
In addition, Bob creates his investment blog that is a matter of 30-40 min with today's technology.
The question is how to attract and lure you to watch the video?
It is quite simple.
He contacts several existing publishers and offers them the kickback (commissions) if you become a paid subscriber, or just pay for marketing upfront.
The publishers agreed to promote Bob's newsletter by offering his freebie to their customers.
As soon as they shake the hands, the publisher begins offering Bob's "candy", and their next e-mail will usually start with something like "my good friend Bob, a very successful investor..." or "in accordance to Bob Smart, a known Wall Street guru, …". At least, they will add the link at the end of their newsletter that points to Bob's blog (if Bob did not agree to pay enough to promote him by sending a specially crafted message) like this one that I have received today:
"Just wanted to pass along a note that, with Labor Day, Roger decided to release a rare recording of his most powerful training. If you didn't get a chance to watch it, it's very worthwhile. It's about 2 hours long and he goes into great detail to show you the power of this approach. Here ya go https://events.genn …."
Are you ready to kill two hours just to get the "Buy Now" button at the end?
Then more publishers were contacted, than more chances that you will open Bob's blog.
At this point, it is up to you to proceed and read or watch "opuses" or just drop the page and delete the email.   Sometimes, at the bottom of his promotion in tiny font, there is a text that lets you know that you will be automatically subscribed to the newsletter. Do you usually pay any attention to it? Probably not. I did not pay attention, too, but now I really do. This is how new e-mails hit your inbox folder even if you did not subscribe.
As you may guess, Bob's freebie should be very "sweet" to attract you enough and force you to click the link. On the next page, you must provide your email address.
It is all Bob needs.
Get ready to receive his daily email into your inbox you want it or not even if you wanted only his freebie. Now, how Bob can convince you to become his paid subscriber?
While giving you some trade recommendations supported by a lengthy proof of his genius skills (a bunch of crunched numbers and graphs with pretending he has some insights), Bob Smart offers you an even better choice of investment if you become his paid subscriber.
Bob may recommend you several closed-end funds that generate 5-6% dividends but if you subscribe, he will give you the recommendations on which CEFs to buy for an 8-9% dividend in a hope that you will begin salivating just thinking about so great dividends.
If you click on his last link in the newsletter, you typically go through another lengthy promotion with proof of satisfied customers (like mentioned above) and with 3-4 free reports added to your yearly subscription.
In the end, Bob is asking for your credit card number.
It was a description of more or less of the entire process.
The Nasty Part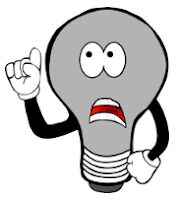 Now, the nasty part of it that drives me nuts.
The important part of any marketing technique is to write a powerful title that attracts your attention and pushes you to move your mouse over the link. Without a good title, the reader may skip the article.
There is one of the most hated by me word in the majority of titles: a "secret". At least 30% of titles contain this word.
Are you so stupid that you think there is a "secret" that reveals the best trading technique? I don't think so. The majority of readers who want to improve their trading are smart folks. They are not so naive! The guy who sells the hot dogs on the street won't be interested in investment newsletters.
Every single technique can be found in numerous books, online, and it is NO SECRET. The question is why overuse this word if you assume you are talking to smart people? Why in the world you would name the knowledge "a secret"?
Here are the recent ones:
-          'Secret code' of superior investors.
-          Options Pro Reveals Secret Behind 24 Trade Win Streak
-          Do This "Billionaire's Secret" Every Day
-          Dear Reader,
I'm going to tell you a dirty little secret - one I learned once I joined the ranks of the hedge fund game. Normally, you only ever learn this when you get on the "inside..." but here it is...
-            …. just released a powerful video… It explains his secret strategy that has averaged $185.06 EVERY day. And he is showing you how in this new video. The secret? Doing the opposite of what everyone else does. Check it out Here…
-           The secret formula for success
-           The Mysterious "Secret Stock"
-           The Secret to 68% Gains (and 8%+ Yields) From... Bonds?
-            Perfect Stock Caught Trading Under Secret Name...
-            Click here for the Secret Profit Schedule Wall Street doesn't want YOU to know
… well, you have an idea. When I read another title with this word, I am like feeling nauseous and click on the trash can icon right away.
Monthly checks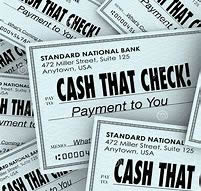 I am sure you have been seeing plenty of emails that promise you an "extra check" every month. All of them are based on giving you "secret" information that did not appear on the media despite new government action. So, Bob Smart knows something but you don't. It looks like this (forgive me for providing a full text):
"Dear Reader,
It was the biggest con in American history. Leading bank CEOs took 81 billion from American taxpayers... without paying a penny of it back. And now - finally! - Congress is setting things right.
Law S.2155 transfers power away from mega-banks and gives it back to smaller banks. This law has had a domino effect in the markets, potentially boosting a unique income vehicle. Which could pay you more in monthly income than you'd receive in bank interest for an entire decade.
I call them, "Bailout Compensation Checks." You could find yourself making anywhere from a few hundred dollars to a few thousand dollars a month, depending on the size of your investment. Thousands of people are already receiving this "comp money." Some of them include:
$7,240 paid to Dan T.; $8,642 paid to Gerald L., $8,716 paid to Robert E., $8,979 paid to Thomas I., $ 11,009 paid to Linda G.
All on a monthly basis.
…….
I know that sounds hard to believe. I thought so too at first. But now that I've seen the details, I'm suggesting retirees everywhere switch to this.
All it takes is 10 minutes and "Bailout Comp Checks" could be scheduled to arrive in your mailbox. Click here to discover how you can get "Bailout Comp Checks". Sincerely,
E.B. Tucker, Senior Analyst
P.S. The next batch of checks are expected to go out soon. You could receive two in the mail at a time. Click here for details."
If you click on the link, you will be forwarded to a video with a header like this:
"In 2008 taxpayer funds were abused by the bank bailout. Now Bill S.2155 opens the door to the dispersal of "compensation funds" to anyone who claims them. $195 Billion in "Bailout Compensation Checks" Being Paid Out Now. Claim Yours!
"They fixed it, or at least have gone a long way toward fixing it." President Trump's remarks regarding Bill S.2155 Anyone can receive this money. Some people are paid $8,979… $9,587… and $15,111 on a regular basis. Discover how you can receive this income too."
As you see, this BS ad states that anyone who will claim funds will get free money. Have you seen a free lunch lately? No doubts, to get the information about how to get free money, Mr. Tucker wants to get your money, first, so he will get the fat checks from the readers who are dummy enough to believe in his tail.
The variation of it is shown below:
"Picture this...
You've just opened your mailbox, and it's full of the same old junk - ads, catalogs, credit card offers, etc.
But there's a weird letter that sticks out like a sore thumb.
The return address is someplace in Plano, Texas, you've never heard of.
You tear it open. And inside there's a check for $863.
At first, you're at a loss for how to explain this sudden windfall.
Then it dawns on you... it's from that new "hobby" you just picked up.
And from now on, you're going to get a check like this... every single month."
And are we talking about triple digits? How about this?
"To anyone currently invested, or interested in investments in the stock market, please read this carefully. A software expert has created an algorithm that detects stock market trends with shocking accuracy.
The software system that utilizes this algorithm has been designed to account for market indicators so subtle, that most people do not even know they exist. In fact, this software is so accurate that its original 1.0 version was bought by Charles Schwab for $20 million.
But the urgent news is as follows...
Its creator, Tom Gentile, is now giving common people who are invested, or interested in investing in the stock market, a rare chance to access the recommendations he finds using this system.
A system that allows you to circle a date on a calendar, and know, with at least 90% certainty, that you could cash in on that day. To give an example of its effectiveness, over 24 months this program's picks could've paid out $999,195.
The algorithm is extremely fast as well, and in a brief presentation, Tom will use it to make $1,050 in just 15 seconds."
I don't know myself – maybe you know?
Another method to attract you is to end the title of the blog with a question mark:

-          Most profitable $3 stock in the world?
-            Earn $40K in dividends on $500,000?
-            Should I Bet Big on One Stock?
If Bob doesn't know the answer why ask his readers? To get comments? The expression of his doubts? No -- to attract your attention and lure you into his next opus with a "Buy Now" button in the end.
The curiosity is exploited
The creativity of marketers does not go beyond the usage of some words that are intended to trigger your curiosity. They use the words "weird", "crazy", "shocking", "unusual":
-          Weird trick that increases your chances to win
-          Crazy movements …
-          Unusual indicator to …
-          3 Shocking Ways to Get a Double-Digit Dividend From Amazon
A housewife who made a million
I always laugh at the articles' headers that start like the one above. The tails about housewives retired janitors, taxi drivers, etc. who were so genius that they were able to achieve great results because they used some smart strategies, are designed for naïve investors. I am immediately locating my "delete" button. I am positive that you ignore them, too.
-          How This Angel Investor Turned $100K Into $100 Million
Crises screamers 
Another well-known method is to use the readers' fear. The goal is to scare you enough about the coming crisis that you would look for an immediate solution, and here we are: just enter your e-mail, and Bob Smart will lead you to the "Buy Now" button. Here is an example that I have seen this morning:
"This crisis could hit before October 31 - are you prepared?
Between now and October 31, one catalyst can trigger the beginning of the most severe financial crisis any of us has ever seen... a crisis likely to make the 2008 crash seem like a day at the beach. Full details are here."
Some more of that soup…
Still, you can browse through all those newsletters if you are patient enough but I drop those articles in a second. I am a patient guy (and my wife said that I am too patient sometimes), but after reading hundreds of newsletters over the last 20 years, I am losing my cool.
If you had a chance to read my article about assets allocations, you might agree that most of the analysts as well as the newsletter publishers are wrong with their predictions (with a minor exclusion). The fact that nobody, I repeat, nobody can predict the market should be on your mind all the time.
Predictions, predictions…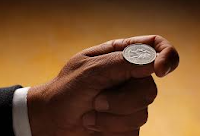 Let's assume, you like Bob's stock picks and kind of agree with him. Is there a guarantee that the stocks will perform as promised?
If it is not enough, even if you have located the investment with good valuations, are you absolutely sure that it will be successful in the future because of valuations? I have seen quite opposite on many occasions (and I am guilty myself to trust some stock picks until I lost money).
The valuations for DAIO stock (on the picture below) are quite good: no debt, great EPS and P/E, enough cash, respectful ROE, yet, the company lost 57% YTD (Finviz.com)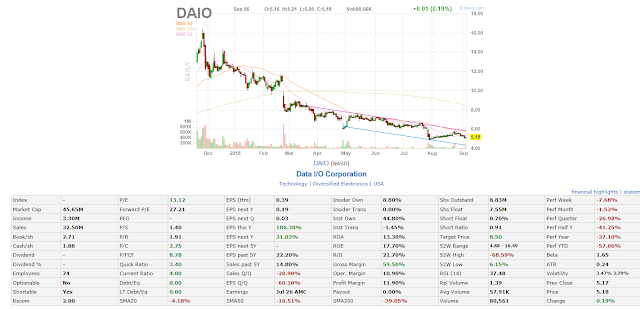 If you will rely on valuations only, contrary to any common sense, many stocks with horrible valuations (including negative with a lot of debt) have been often outstanding performers while the good candidates were losing the value. Digital Ally, Inc was not the stock that attracts with its valuations, yet, it has gained 60% YTD. It is the "popular" one, indeed.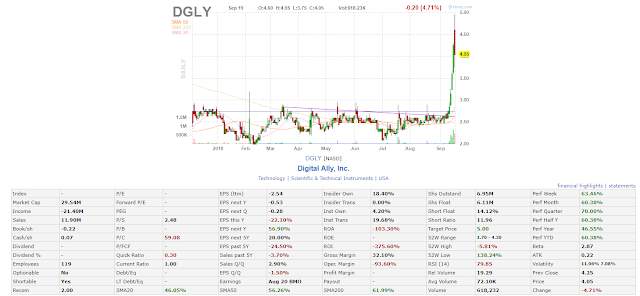 Or, let's take a look at the stock with good valuations.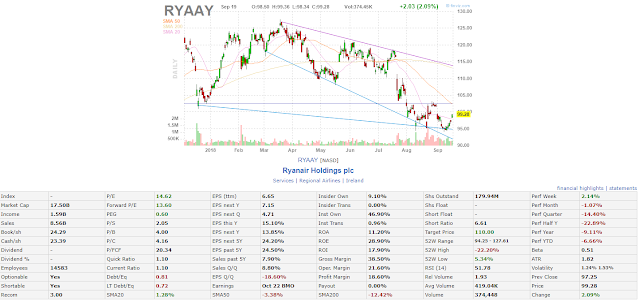 Ryanair Holding company has plenty of cash, great ROE, PE, and PEG. Despite it, the company has lost 25% of its stock since reaching 52 weeks high in the middle of March.
Does it puzzle you?
How can we determine if the stock is worth your money if the valuations mean nothing? Do you have the answer? Do you still want to rely on Bob's predictions and put your money in recommended stocks?
Let me depart a little from the main topic. It has puzzled me not one time until I have found Mr. Buffet's judgment about the market: "the stock market is a popularity contest". Perfect description!
Have you seen the stocks that jump 15-20% up after releasing positive news? The stock immediately becomes popular because of future expectations. The automated trading adds a lot to a swing and drives the stock up so much that it becomes overbought within 15 minutes.
As Mattew Carr noted in his email, "What we're seeing are the dangerous hallmarks of irrational exuberance. The speculation is fed by news of price increases that ignites investor enthusiasm, which spurs prices higher and draws more investors in as share prices continue to swell. The value of the investment - the reality - is no longer important.
The gambler's mentality takes charge, goaded on by the envy of other investors' successes."
That is a reason why I rely more on the tape and watch the charts by placing my valuations and DD as the second bullet of my decision list.
Why bother?
Let's get back to our main topic. Newsletter after newsletter offers investment advisory services promising juicy returns from the gurus of investment.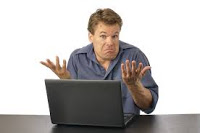 I always have one question on my mind: if the publishers of the newsletter are so successful in their stock picks and generate triple-digit returns, why in the world do they need your pity $49/year subscription fee?!
Why bother with writing newsletters? Why not spend valuable time by doing more research and investing your own money in the stock market?
I feel you do know the answer…
"…Just look at this Thursday's VIP event. Tickets cost $197. And that's worth every penny (and then some).
Or...
It's free for Wealth365 Members (which should be you). You also get advanced (free) invites to the Wealth365 Online Summit, plus:
Summit VIP Recordings, VIP Summit Bonus Prizes; Daily Market News to Keep You Ahead of Important Market Events;
Unique Training Articles & Research Papers; Special Trading Tools, Cheat Sheets, & Checklists to Guide Your Trading and Investment Strategies
        ... All for just $47/month"
If you are patient enough, watch this video of the guy (Chan Gilani) who claims to make 4-digit % in the profits and his presentation is very, very convincing. And he is announcing that he is right in 99% of the cases!
But I have the same question: Why bother? Why he still needs YOUR money? Meager $39 for his reports?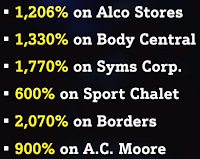 It makes me laugh!
Here is the link to the customers' reviews of his newsletter.
The new newsletters are created daily and are rotated among publishers daily as well. Then, the flashy names of the newsletters pop up in your email inbox:
Dean Jenkins, Follow Me Trades
Eric Wilkinson, Pro Trader Strategies
Price Headley, Big Trends
Todd Gordon, TradingAnalysis
Greg Capra, Master Trader
Melissa Armo, The Stock Swoosh
Andrew Keene, Alpha Shark
Thomas Barmann, Never Loss Trading
Wealth365 VIP
Marc Lichtenfeld, The Oxford Income Letter
The Oxford club itself from Agora Publishing in Baltimore has 13 newsletters!
The cost to subscribe runs between $49-79/year and up to $2,000-2,995 depending on how the publishers value their service. For instance, Sean Brodrick who runs the "Supercycle Investor" newsletter is asking no less than $2,246 for membership (discounted from $5k!). What a discount! You are probably salivating, aren't you?
The vast majority of newsletters offer the "unsubscribe" link, and if you click on it, you will be unsubscribed. Perhaps, it is fair: Don't like me? Say goodbye!
But don't hurry up… there is not every newsletter is so fair to the readers.
For instance, there is a company with the name Stansbury Research with 19 newsletters being published. Not to mention that they generate "doom-and-gloom" messages constantly (yes, the crash is coming!!!), if you have been unfortunate to provide your e-mail address, no matter what you do (like the request to unsubscribe) their messages will continue hitting your email box.
One of the newsletters is "Health and Wealth Bulletin" from Dr. Eifrig that drives me nuts. Even if you have assigned the "spam" label to their messages, the new one from a different sender (and a different e-mail address) will come through anyway because your spam filter has blocked another one. The only way to block them is to block the entire domain. It is possible but is more technical, and not every reader knows how to do it.
Another annoying company is Eagle Financial Publications. You have to call them to cancel your subscription (the one that you did not activate yourself).
If you have been patient enough reading this article, I recommend you to read What the Hulbert Financial Digest really taught us written by Paul Merriman. You should know that there was one interesting newsletter subscription (not available anymore) that highlighted the investment results by comparing the yearly portfolio returns of various newsletter advisories. I will not repeat it here but the results are obvious ...
Conclusion
The investment newsletter folks are very creative, so you may find all kinds of variations with combined offers that are rotated across many newsletters to promote a particular service.
My point is: learn more about this field of investment advisory advertisement and be aware. There is not even one "Bob Smart" who genuinely wants to increase your wealth but every one of them wants some change from your pocket on a monthly or yearly basis.
BE AWARE! Review customers' comments online!
I am still getting some e-mails, mostly from Seeking Alpha folks (and only from a few of them) just to get the idea about dividend-producing investments (like CEFs, BDCs, and Preferred shares) but I don't blindly follow them. In fact, I am arguing about their advice very often.
Happy investing!